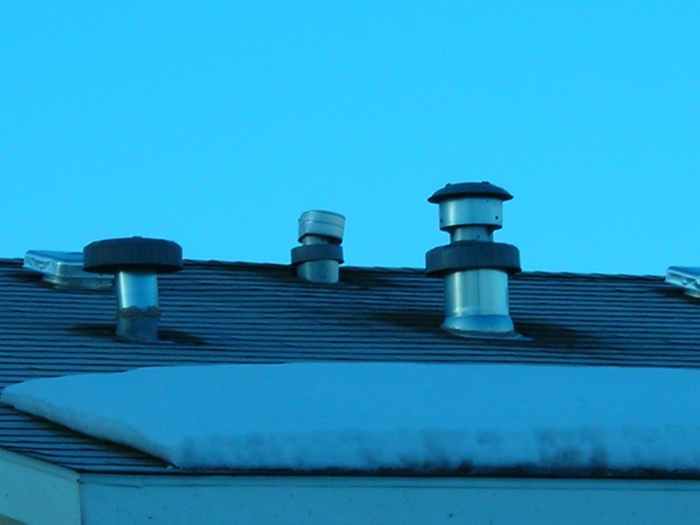 a.

If you can safely climb onto your roof
, you can simply place a
plastic garbage bag
upside down over the
"Dilution" Fresh Air Intake
(interior breathing air) so as to cover the cap (aka "bonnet") and intake opening (inside and just below the cap / bonnet)
-- in this example, that breathing air intake is the shorter, single capped (single bonnetted pipe) stack at the left, --
it is the only stack that
always is cool
the touch
(the furnace and water heater exhausts will be warm or hot periodically as they are in use).


. . . then with
cord
or
tape
(duct tape, electrical tape or any other durable tape that will survive the sun, rain or snow)
tie the bag tightly closed around the riser pipe
(below the cap).
Now no fumes can enter into the home through that Dilution Air intake stack.
--
See how easy that was!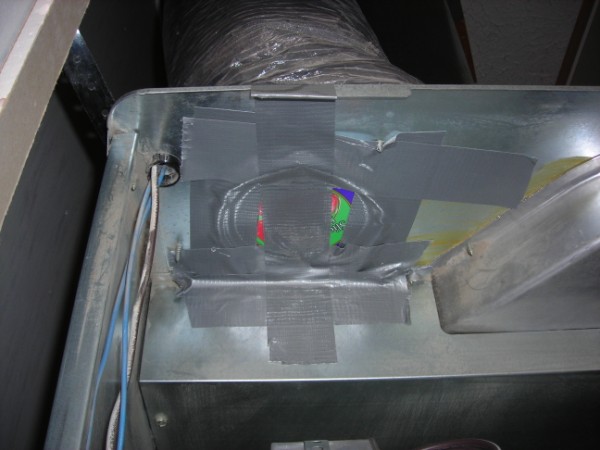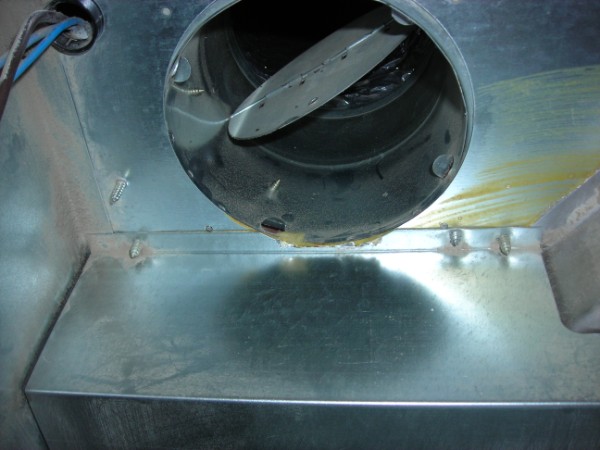 b.

But if you cannot safely get onto your roof
, you can close off that contaminated air intake by going
inside the furnace fan blower chamber
(open filter panel). Then with duct tape and a plastic lid (
carefully cleaning the contact
surfaces first
), seal off that "Dilution" air intake port, as we did in the photos at right. (Click photos to enlarge, also
review describing video
)
-- It is important that the surfaces be carefully cleaned, so the tape will hold securely the plastic lid and the tape itself to the surface so that neither will fall away and get drafted into the blower fan. -- So if you do use this way to close off that intake, check it periodically to be sure that the tape is holding -- at least until more secure closure and/or permanent corrections have been made.
--
This altenative method also is easy!
c. Now be sure to
allow for some fresh air to enter home
through
window(s)
left slightly opened. -- This is to allow replenishing of the oxygen that you and your family have used up in your breathing needs.
d.
Also remember that Gas fired Cook-

Stoves

(Ranges) and
Ovens
also produce dangerous exhaust fumes
that are expelled directly into your kitchen and the connected rooms; so make sure to
turn on
range hood
vent fan
(it should be venting Stove / Oven exhaust to outside) --
or open window(s)
in kitchen enough to let fresh air in, and fumes to go out. -- And especially
do not leave infants or toddlers in any closed Kitchen while cooking or baking
, as they are far more prone to those combustion exhaust fumes (all containing Carbon Monoxide, Formaldehyde, depleted Oxygen and elevated Carbon Dioxide, etc.) poisonings and suffocation injuries than older children or adults.